Rasther Aligner PLUS – TM 712
Overview
Emphasis
Features
ESPECIFICAÇÃO
SOFTWARE
DOWNLOADS
Accessories
Contact
Back to products
Whatever comes
From light to heavy vehicles alignment is performed.
OVERVIEW
Rasther Aligner PLUS - TM 712
The TM 712 measures the angles of the steering system, enabling toe-in, camber and caster adjustments in vehicles.
Whatever comes!
As a differential, this technology serves both light and heavy vehicles.
For the light line, the combination of the TM 712 with the Alignment Bases (TD 1006) becomes the most economical solution in the category.
As for the truck line, the work gains efficiency because the equipment was designed specifically to serve these vehicles.
DESTAQUE
Destaque
01 Câmera para cada roda, aumentando a precisão e produtividade.
A instalação pode ser feita por fixação aérea, permitindo a otimização do espaço físico da oficina.
CARACTERÍSTICAS
Características
1 concentrador
1 cabeça de leitura esquerda
1 cabeça de leitura direita
1 hardlock
1 software Rasther Aligner Plus
2 fontes de alimentação
ESPECIFICAÇÃO
Fonte de alimentação - Entrada: 100 ~ 240 Vac - Saída: 12 Vdc 1A
Cabo USB 2.0 padrão
Garras de fixação
Alvos traseiros
Régua centralizadora
Pratos dianteiros
Trava do pedal de freio
Trava de direção
Rack totem
Especificações mínimas recomendadas para o computador:
Celeron Dual Core 2.6 GHz;
2 GB ram; • HD 40 GB;
Display 800 x 600 pixel;
Acesso à internet;
Mouse e teclado;
Porta USB 2.0 recomendável, USB 1.1 compatível;
Sistemas operacionais suportados são Windows XP, Windows 7 e Windows 8.
Read more/span>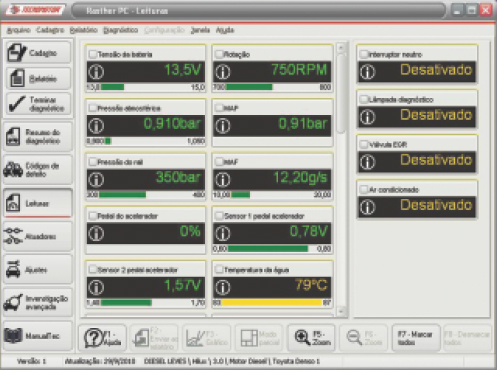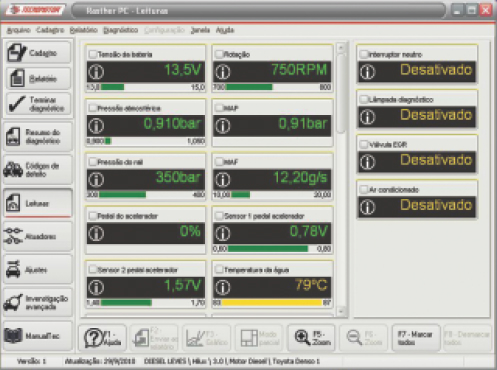 SOFTWARE
Software Rasther Aligner Plus
O software Rasther Aligner Plus acompanha o equipamento TM 712 - Rasther Aligner e é utilizado como a interface de controle do equipamento. Este equipamento juntamente com o seu software foi desenvolvido para realizar, de forma ágil, o processo de alinhamento de veículos automotores pesados e médios.
Read more/span>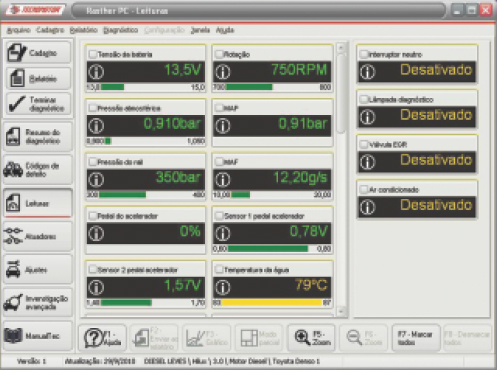 Contact
TREINAMENTOS

ASSISTÊNCIA TÉCNICA

TECNOMOTOR TV

DICAS TÉCNICAS

APOIO TÉCNICO

INSTAGRAM

CANAL DE CHAT

FACEBOOK

WEB INFORMATIVO

LOJA VIRTUAL

WEB SOLICITAÇÕES

TECNOZ